Translational Medicine @ UniSa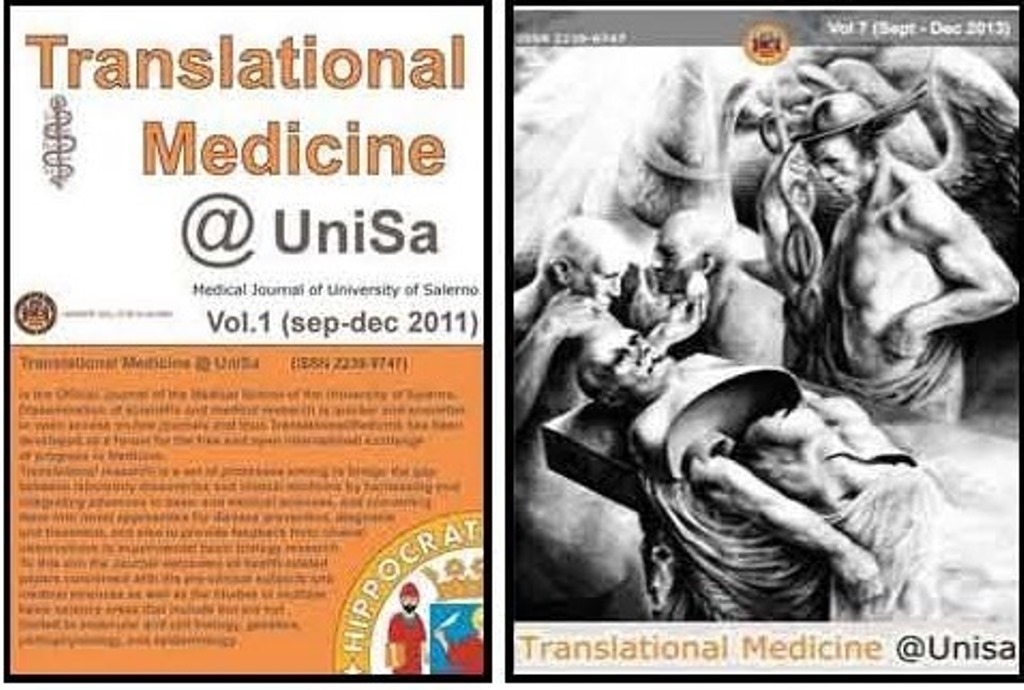 Is the Official Journal of the Medical School of the University of Salerno. Dissemination of scientific and medical research is quicker and smoother in open access on-line journals and thus TranslationalMedicine has been developed as a forum for the free and open international exchange of progress in Medicine. Translational research is a set of processes aiming to bridge the gap between laboratory discoveries and clinical medicine by harnessing and integrating advances in basic and medical sciences, and converting them into novel approaches for disease prevention, diagnosis and treatment, and also to provide feedback from clinical observations to experimental basic biology research. To this aim the Journal welcomes all health-related papers concerned with the pre-clinical subjects and medical sciences as well as the studies in multiple basic science areas that include but are not limited to molecular and cell biology, genetics, pathophysiology, and epidemiology. Testata registrata al Tribunale di Salerno. Registrazione n.3/2013 del 12/02/2013. Direttore responsabile dott.Francesco Colucci.
Collections in this community
Recent Submissions
Two mediastinal masses were incidentally detected at high resolution computed tomography (HRCT) of a 72 year-old male patient, former smoker, affected by chronic obstructive pulmonary disease with worsening dyspnea and ...

Objectives: To obtain outcomes data on anatomical and reverse total shoulder arthroplasty by analysis of clinical scores and standard radiographs. Subject selection and enrollment: 400 consecutive series of patients replaced ...

Exposure to animal allergens constitutes a relevant risk factor for the development of allergic sensitization. Moreover, an increasing number of people become owners of less common animals. In this article we summarize ...

One of the issues regarding in vitro study of bone resorption is the synthesis of a bonelike biomaterial forming a thin layer onto either glass or plastic. The synthesis of a bone-like material suitable for in vitro studies ...

The ageing of the population in western countries, the continuous increase of the prevalence of chronic diseases, the frequent coexistence of several morbid conditions (comorbidity) requires health professionals and ...

GRK5 is a multifunctional protein that is able to move within the cell in response to various stimuli to regulate key intracellular signaling from receptor activation, on plasmamembrane, to gene transcription, in the ...

A T-handle has been designed to be used for minimally invasive implantation of a dynamic hip screw to repair fractures of the proximal femur. It is capable of being used in two actions: (i) push and hold (while using an ...

High-precision radiation therapy is a clinical approach that uses the targeted delivery of ionizing radiation, and the subsequent formation of reactive oxygen species (ROS) in high proliferative, radiation sensitive cancers. ...

Acute coronary syndrome (ACS) represents the most common cause of death worldwide. Percutaneous coronary intervention (PCI) is the management of choice in patients with ACS and occurrence of intra procedural thrombotic ...

Lipoid pneumonia is an uncommon disorder characterized by accumulation of lipid components into the interstitial and alveolar compartment. The usual classification distinguishes endogenous and exogenous and acute or chronic ...

The aim of this paper is to give an insight on how physical activity can be defined, parameterized and measured in older adults and on different options to deal with citizen physical activity promotion at European level. ...

Over the years, different operational definitions have been elaborated to identify frail older persons, but none of them has received unanimous consensus. This, in turn, has hampered the clinical implementation of frailty ...

Among lifestyle factors, nutrition is one of the most important determinants of health, and represents a pivotal element of cancer risk. Nonetheless, epidemiological evidences of the relationship between several cancers ...

Physical exercise is associated with reduced risk of heart disease, type II diabetes mellitus, and overall mortality. However, growing evidence shows that physical activity can also improve cognitive function and may lower ...

There is increasing evidence that diet plays a crucial role in age-related diseases and cancer. Oxidative stress is a conceivable link between diet and diseases, thus food antioxidants, counteracting the damage caused by ...

PURPOSE To explore the frequency of polypharmacy, functional and cognitive capacity among the elderly in Southern Italy. METHODS Populationbased retrospective cross-sectional study. Information were retrieved from ...

Background: Bone impairment and malnutrition are associated with significant disability and mortality. PERSSILAA is an European project developing health services to detect and prevent frailty in older adults by addressing ...

Ventricular arrhythmias are a leading cause of non-elegibility to competitive sport. The failure to detect a significant organic substrate in the initial stage of screening does not preclude the identification of structural ...

Preclinical studies are essentially based on animal models of a particular disease. The primary purpose of preclinical efficacy studies is to support generalization of treatment–effect relationships to human subjects. ...