Translational Medicine @ UniSa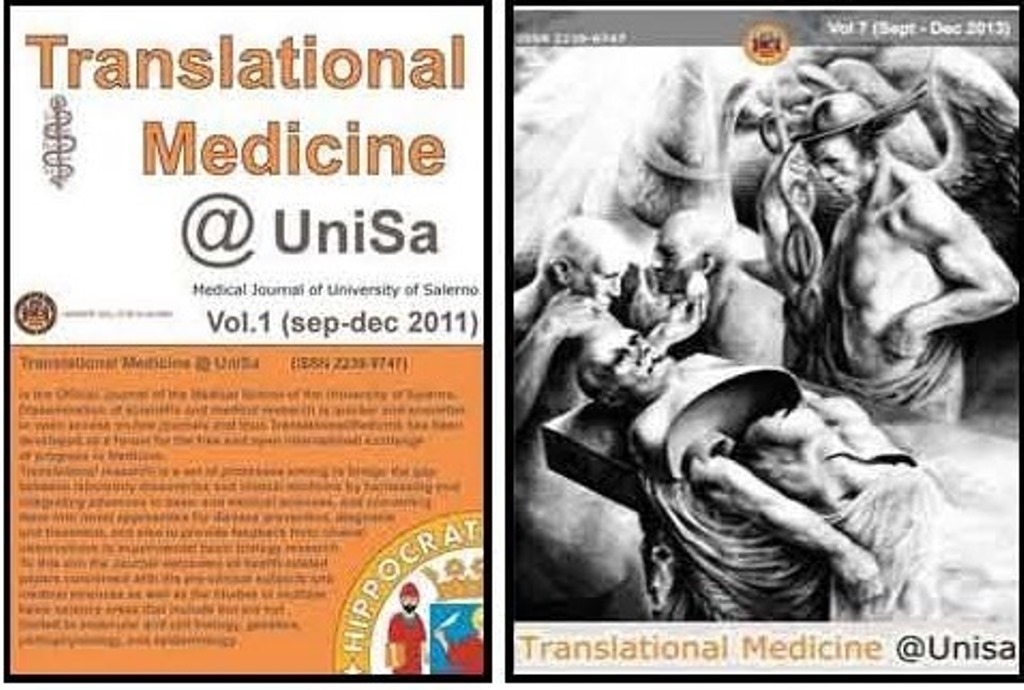 Is the Official Journal of the Medical School of the University of Salerno. Dissemination of scientific and medical research is quicker and smoother in open access on-line journals and thus TranslationalMedicine has been developed as a forum for the free and open international exchange of progress in Medicine. Translational research is a set of processes aiming to bridge the gap between laboratory discoveries and clinical medicine by harnessing and integrating advances in basic and medical sciences, and converting them into novel approaches for disease prevention, diagnosis and treatment, and also to provide feedback from clinical observations to experimental basic biology research. To this aim the Journal welcomes all health-related papers concerned with the pre-clinical subjects and medical sciences as well as the studies in multiple basic science areas that include but are not limited to molecular and cell biology, genetics, pathophysiology, and epidemiology. Testata registrata al Tribunale di Salerno. Registrazione n.3/2013 del 12/02/2013. Direttore responsabile dott.Francesco Colucci.
Collections in this community
Recent Submissions
Foot ulcers associated with Diabetes mellitus require immediate attention due to risk of amputation if left untreated. Herein we focus on the mitigating risk factors and physiopathology of the diabetic foot, recounting ...

Notwithstanding technological improvements in endovascular devices treatment of steno-obstructive lesions of the superficial femoral artery (SFA) remains a challenge for today's vascular surgeon. Current opinion dictates ...

Diabetic ulceration of the foot is a major global medical, social and economic problem and is the most frequent end-point of diabetic complications. A retrospective analysis from February 2017 to May 2019 of diabetic ...

Non-atheromatous surgical lesions are estimated to represent at most 10% of all carotid procedures, most of which involve atheromatous lesions. Isolated tortuosity of the carotid vessels is sometimes treated surgically. ...

Surgical access complications during endovascular aneurysm repair (EVAR) are reported relatively frequent. HARMONIC FOCUS® (HF; Ethicon EndoSurgery Inc., Cincinnati, Ohio, USA) is a device developed to improve bleeding ...

We report on a case of an asymptomatic splenic artery aneurysm (SAA) with a large neck in a 53-year-old female with an extreme vessel tortuosity which was treated with a Double Microcatheter Technique. This endovascular ...

The first line approach for subclavian steal syndrome is PTA-stenting of subclavian artery. When the ipsilateral vertebral artery origin is involved or in closed proximity of the atherosclerotic lesion in the subclavian ...

Nowadays patients affected by deep vein thrombosis (DVT) and pulmonary embolism (PE) are studied widely but the challenge for physicians is when and how they are to be treated. Most patients present serious comorbidities ...

New digital technologies can have a huge impact on the traditional healthcare sector, both from a clinical and economic perspective. Doctors and health specialists will increasingly need technology to improve the ...

Congenital cystic adenomatoid malformation (CCAM) is a rare congenital lung lesion. It may appear since birth (30-35%) with difficulty breathing or may have a late onset (60- 65%) with recurring pulmonary infections ...

In paediatric population, the laparoscopic splenectomy has been preferred to the open surgery during the last years. Due to the improvement of the technique and the devices, the indications to the laparoscopic splenectomy ...

According to the 2012 ESPGHAN criteria for diagnosis of celiac disease (CD), duodenal biopsy (DB) can be avoided in children with a clear malabsorption syndrome, anti-tissue transglutaminase IgA (tTG2) ≥ 10x the cut-off, ...

Gastro-oesophageal reflux is common in children, especially in the first year of life, and it may be regarded as physiological. Good functioning of the lower oesophageal sphincter depends largely on the anatomical ...