Iura & Legal Systems. Volume 2 (Gennaio - Dicembre 2015)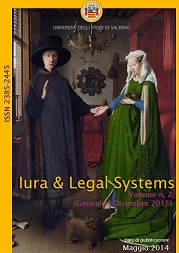 Recent Submissions
This paper examines the institution of the Autorizzazione Unica Ambientale introduced into italian legal system by the national Legislator, on the impetus of the European Legislator, in order to simplify the bureaucratic ...

The aim of the work above is to provide a survey of the most prominent aspects concerning the hearing of minors. After a short introduction to state of art of the national, international and European law concerning the ...

Analisa o presente artigo o julgamento proferido pelo Supremo Tribunal Federal, no denominado processo da Demarcação de Reserva Legal Indígena Raposa Serra do Sol, situada no extremo norte do País, Estado de Roraima- ...

The wide range of academic writings in response to the famous Jan van Eyck portrait of the Arnolfini couple in the London National Gallery is considered by art historians as an indication of the painter's stupendous ...

The essay tries to explain what was the meaning and the function of the three broad categories (the so called status: familia, civitas, libertas), which were built in the Roman antiquity and were utilized to include and ...

Justice, as a concept, is the foundation of the law. In this article the importance of the concept of justice and how the approach to justice is necessary to temper the law is discussed with reference to Lon Fuller's ...