ELPHi, Electronic Library of Public History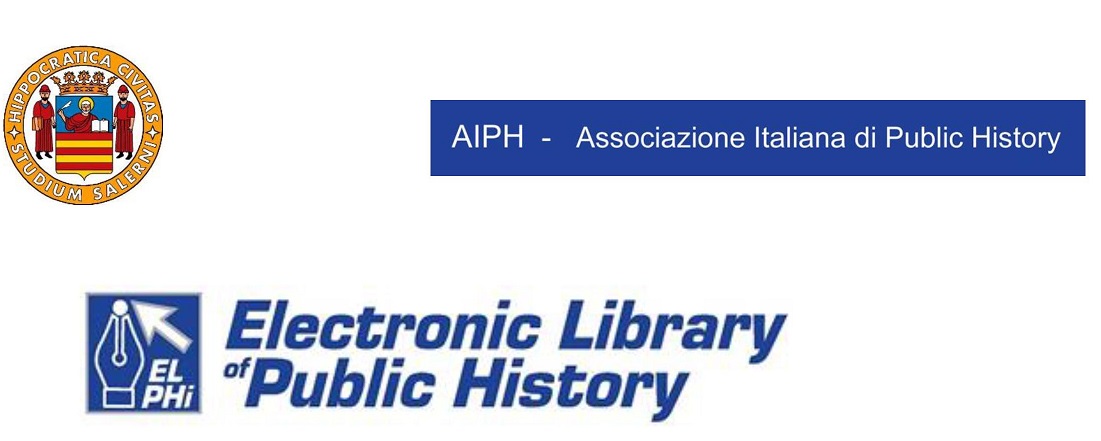 L'Associazione Italiana di Public History e l'Università degli Studi di Salerno hanno stipulato una convenzione per l'implementazione di un archivio aperto dedicato agli studi di public history. È denominato ELPHi (Electronic Library of Public History) ed è finalizzato a raccogliere, conservare ed esporre documenti – inediti o anche già pubblicati in altre sedi, digitali nativi o digitalizzati – liberi da vincoli editoriali: monografie, articoli in riviste, contributi apparsi in miscellanee di studi o atti di convegni, capitoli di libri, recensioni o rassegne di dati bibliografici, contenuti audio o video, manifesti, locandine, fotografie, prodotti grafici; e qualsiasi altro contenuto o risorsa purché ritenuto coerente con le linee di indirizzo del progetto.
Il Centro Bibliotecario di Ateneo dell'Università di Salerno cura la gestione tecnica del progetto, inclusi l'indicizzazione, l'inserimento dei metadati descrittivi e l'attribuzione del DOI (Digital Object Identifier). L'archiviazione digitale sarà eseguita con la licenza CC BY-NC-ND 4.0, che consente ad altri di condividere il lavoro, scaricare, riutilizzare, ristampare, distribuire e/o copiare la versione finale dei documenti.
L'iniziativa è rivolta a tutti gli studiosi interessati a un'ampia diffusione su strumenti telematici degli esiti della propria ricerca. Tutti coloro che fossero interessati alla pubblicazione di documenti e risorse informative nel database ELPHi potranno inviarli in formato pdf all'indirizzo e-l-p-hi@googlegroups.com. Ogni singola proposta dovrà essere corredata da una dichiarazione di responsabilità. Il comitato scientifico dell'AIPH si riserva di non pubblicare i contributi ritenuti non coerenti con le finalità scientifiche del progetto o non provvisti di liberatoria.
Comitato scientifico: Agostino Bistarelli, Chiara De Vecchis, Maria Antonella Fusco, Serge Noiret
Referenti del progetto: Marcello Andria (AIPH), Maria Rosaria Califano (Università di Salerno)
Responsabile tecnico: Maria Senatore (Università di Salerno, Centro Bibliotecario di Ateneo)
The Italian Association of Public History and the University of Salerno have entered into an agreement for the implementation of an open archive dedicated to public history studies. ELPHi (Electronic Library of Public History) is aimed at collecting, storing and exhibiting documents - unpublished or even already published in other locations, digital native or digitized - free from editorial constraints: monographs, journals' articles, contributions that have appeared in studies' miscellaneous or conference proceedings, book chapters, book reviews or bibliographies, audio or video content, posters, playbills, photographs, graphic products, and any other content or resource as long as it is considered consistent with the guidelines of the project.
The University Library Centre of the University of Salerno takes care of the technical management of the project, including indexing, insertion of descriptive metadata and attribution of the DOI (Digital Object Identifier). Digital archiving will be performed under the CC BY-NC-ND 4.0 license, which allows others to share works, download, reuse, reprint, distribute and / or copy the final version of documents.
The initiative is aimed at all scholars interested in a wide dissemination of the results of their research through telematic tools. All those interested in publishing documents and information resources in the ELPHi database can send them in pdf format to e-l-p-hi@googlegroups.com. Each individual proposal must be accompanied by a declaration of responsibility.
Scientific Committee : Agostino Bistarelli (AIPH & GCSS), Chiara De Vecchis (Italian Senate Library), Maria Antonella Fusco (MIBACT), Serge Noiret (AIPH, European University Institute Library)
Project coordinators : Marcello Andria (AIPH), Maria Rosaria Califano (Università of Salerno)
Technical manager : Maria Senatore (Università of Salerno, University Library Center)
Collections in this community
Recent Submissions
La Repubblica Sociale Italiana di Salò, 1943-1945, si separò dalla monarchia italiana alla fine del 1943 e continuò la guerra a fianco della Germania nazista. La memoria della milizia di Salò fu bandita dai dibattiti ...

The essay aims to analyze how the past is appropriated in the European Public Sphere and which institutions, media and actors are involved in Public History practices. In contrast to the Anglo-Saxon world, a variety of ...

Digital History in its version 2.0, has certainly helped to open up "high culture" but with the advent of web 2.0, history and memory are now the prerogative of anyone using "crowdsourcing" activities. The danger today is ...

This essay has been published ten years after Ricerche Storiche's special issue on Media and History coordinated by Francesco Mineccia and Luigi Tomassini (2009) which engaged, for the first time in Italy, with Public History ...

The relationship between history and information technology is long and troubled. Many projects have opened and closed, many pioneering initiatives have achieved success and attention, but often they have not 'taught' ...

This paper draws upon the experience of several years of running a multi-application crowdsourcing platform, as well as a longitudinal evaluation of participant profiles, motivations and behaviour, to argue that heritage ...

Public history is triggering debate and lively reactions in Italy. What is the reason for its success? In connection with what areas does public history lead historians to think, and to act? This text questions these points, ...

History museums have been influenced by developments in contemporary museology, opening up to new forms of interaction with their local communities. This is true also in the case of European national history museums, with ...

Ragionamento sulle relazioni tra storia digitale e public history

The Codice Pelavicino Digitale Project aims to publish an online digital edition of the relevant manuscript of the XIII century. In this paper features of the edition and related issues are addressed. Secondly we explain ...

(

Pisa: Pisa University Press

,

2017

)

Il volume in cui il contributo è contenuto raccoglie gli atti del convegno «Rievocare il passato: memoria culturale e identità territoriali», tenuto presso il Dipartimento di Civiltà e Forme del Sapere dell'Università di ...

The digital revolution has had a profound impact on how history is being studied, analyzed, shared, taught, as well as how the sources of the past are published, preserved and even produced. This essay presents an overview ...