Translational Medicine @ UniSa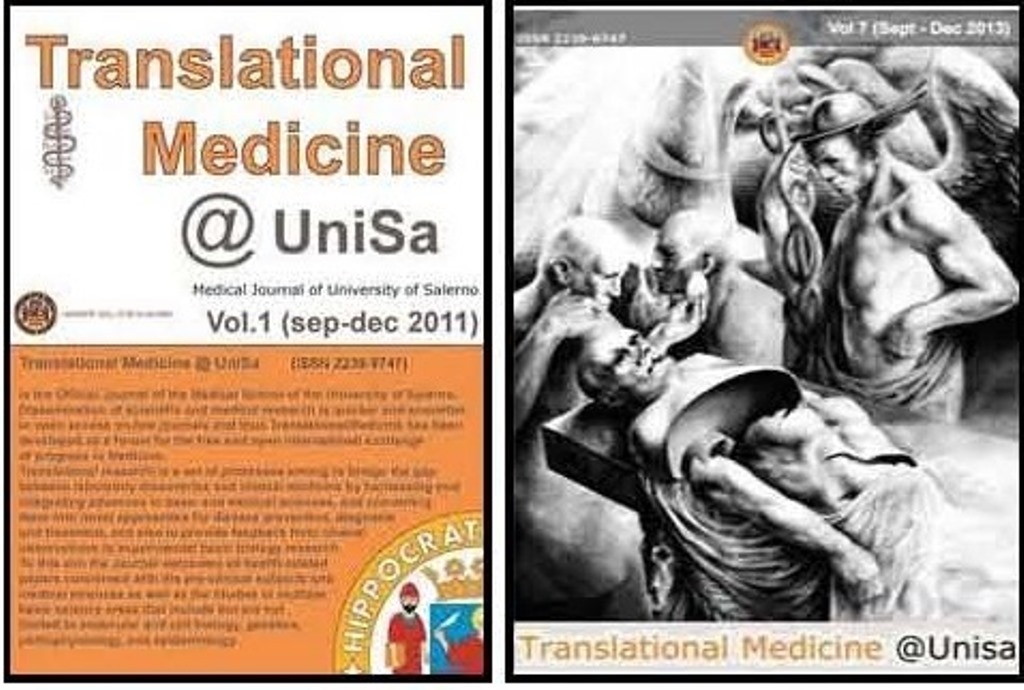 Is the Official Journal of the Medical School of the University of Salerno. Dissemination of scientific and medical research is quicker and smoother in open access on-line journals and thus TranslationalMedicine has been developed as a forum for the free and open international exchange of progress in Medicine. Translational research is a set of processes aiming to bridge the gap between laboratory discoveries and clinical medicine by harnessing and integrating advances in basic and medical sciences, and converting them into novel approaches for disease prevention, diagnosis and treatment, and also to provide feedback from clinical observations to experimental basic biology research. To this aim the Journal welcomes all health-related papers concerned with the pre-clinical subjects and medical sciences as well as the studies in multiple basic science areas that include but are not limited to molecular and cell biology, genetics, pathophysiology, and epidemiology. Testata registrata al Tribunale di Salerno. Registrazione n.3/2013 del 12/02/2013. Direttore responsabile dott.Francesco Colucci.
Collections in this community
Recent Submissions
PURPOSE To explore the frequency of polypharmacy, functional and cognitive capacity among the elderly in Southern Italy. METHODS Populationbased retrospective cross-sectional study. Information were retrieved from ...

Background: Bone impairment and malnutrition are associated with significant disability and mortality. PERSSILAA is an European project developing health services to detect and prevent frailty in older adults by addressing ...

Ventricular arrhythmias are a leading cause of non-elegibility to competitive sport. The failure to detect a significant organic substrate in the initial stage of screening does not preclude the identification of structural ...

Preclinical studies are essentially based on animal models of a particular disease. The primary purpose of preclinical efficacy studies is to support generalization of treatment–effect relationships to human subjects. ...

Rugby is a popular contact sport worldwide. Collisions and tackles during matches and practices often lead to traumatic injuries of the shoulder. This review reports on the epidemiology of injuries, type of lesions and ...

Glioblastoma Multiforme, the most common and aggressive primary brain tumor, remains incurable despite of the advent of modern surgical and medical treatments. This poor prognosis depends by the recurrence after surgery ...

Background: The use of teriparatide in the management of fracture disorders is poorly documented. This study aims to show that teriparatide administration may improve the healing process in patients with nonunions after ...

Background: Management of tears of the anterior and posterior roots of the meniscus is still controversial. We wish to propose a simple technique of suture anchor to repair tears of the anterior root of the medial meniscus. ...

Despite aggressive strategies are now available to reduce LDL-cholesterol, the risk of cardiovascular events in patients with coronary artery disease remains substantial. Several preclinical and clinical studies have shown ...

May-Thurner syndrome (MTS) is an anatomically variable condition resulting in compression of the left common iliac vein between the right common iliac artery and the underlying spine with subsequent development of a left ...

Muscle injuries are frequent in athletes. Despite their high incidence, advances in clinical diagnostic criteria and imaging, their optimal management and rehabilitation strategies are still debated in literature. Furthermore, ...

(

Universita degli studi di Salerno

,

2015

)

This corrects the article "Eating and nutrition habits in young competitive athletes: a comparison between soccer players and cyclists." in volume 11 on page 44.

To date, only one third of patients, with stable angina, undergoing coronary angiography demonstrated obstructive coronary artery disease (CAD). Thus, identifying high sensitivity and specificity, low-cost, non invasive ...

Neurofibromatosis type 1 (NF1) is a disease characterized by increased tumorigenesis susceptibility, caused by mutations of the oncosuppressor gene NF1. The glomus tumor (GT) is a rare, very painful mesenchymal neoplasm, ...

Incidence of chronic heart failure (HF) is rapidly increasing, approaching a 10 per 1000 rate after 65 years of age. In the last decades, despite pharmacological, interventional and supportive innovations, HF prognosis ...

Abacavir is a nucleoside reverse transcriptase inhibitor largely used as part of the antiretroviral therapy in Human Immunodeficiency Virus (HIV)-infected patients. Some individuals (2-9%) who start an abacavir treatment ...

The human requires attentive effort as assessed in dual-task experiments. Consistently, an attentive task can modify the walking pattern and a attention deficit and hyperactivity disorder (ADHD) is accompanied by gait ...

The study evaluated the dietary habits in two groups of young athletes, practicing two different sports: soccer players and cycling. The dietary habits of 47 athletes were investigated by questionnaire. Body Mass Index, ...